Written by Spencer | 06 July 2011

First, I should say that I love the guys at TBJ (The Basketball Jones) and all of their guest writers/contributors. Mostly, because they are, what I feel are where a lot of bloggers want to be/go i.e. make a living writing about our favorite stuff.

Here is the link to the post by Dennis Velasco The 10 best point guards of the past three decades... You should read the article in its entirety for the complete rankings and the beginning for his ranking parameters.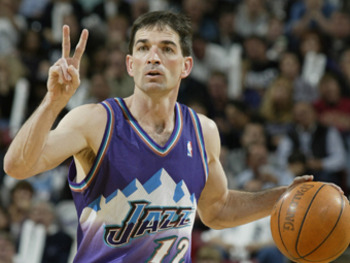 Dennis Velasco@dv140 gives Stockton some props.


2. John Stockton, Utah Jazz (1984- 2003)
1504 G; 13.1 PPG; 10.5 APG; 2.7 RPG; 0.6 3PTM; 51.5 FG%; 82.6 FT%; 2.2 SPG
It's fitting that Stockton gets ranked second on this list because he was the second-best player on his team after Karl Malone. In my conversations about top point guards with other people, I think that Stockton is always underrated, which I blame on the aforementioned Mailman taking the spotlight (rightly so), playing in Utah versus some of the bigger markets and not winning a title, although coming close. Oddly enough, other than the last point, Stockton probably wouldn't have it any other way.
Stockton never averaged more than 17.2 points in a season, but surely had the ability to score 20+ points if he wanted to. His excellent shooting percentage for a guard and his adeptness in penetrating would point to the fact that Stockton could have averaged more points, but that wasn't him. In his 19 NBA seasons, Stockton played a full slate of games in 17 of them, which includes the 50 game strike-shortened 1998-99 season. He averaged double-digits in assists in 10 seasons, leading the league in nine of them. Stockton also led the league steals per game twice.
While Stockton won't speak much about his achievements, the statistics do all the talking for him. He owns excellent rates in PER (21.8) and ORtg (121), but all you need to know that he is the NBA's all-time leader inassists (15,806) and steals (3,265) and he owns those records by a lot. Don't expect them to fall any time soon.


I am partial to John Stockton being number one, because I don't think that Magic is/was a point guard. However, the championships make up for a lot of the stats and longevity of Stockton. This argument has made before "Pound for Pound" with Bolerjack and others a few years back.

On draft night 2011 got into a little discussion about the best T.V. show ever Lost or Seinfeld. After 20 minutes of discussing we decided that you couldn't compare the two because they are totally different genres and audiences. We used the Stockton and Magic final argument you just can't compare the two because they were two totally different breeds of PG's.

Who do you rank number one, Stock or Magic?

And what is the best TV show Lost or Seinfeld?