Written by Spencer | 22 November 2010

2. UTAH
Preseason Prediction: 55 wins (3rd) Revised Prediction: 55 wins
In 2008, the Rockets won 22 straight games with the following rotation: Tracy McGrady, Yao Ming/Dikembe Mutombo (Yao got hurt halfway through the streak, so Dikembe got his minutes), Luis Scola, Chuck Evans, Shane Battier, Luther Head, Carl Landry, Rafer Alston and Bobby Jackson. Did it make sense? Yes and no. Successful NBA teams tend to have a rotation of nine players (sometimes 10, but usually nine) who know their roles. Those roles usually include a player who can score in the low post, a perimeter stopper and a couple of players who can make open 3s … but they
always
include one elite offensive player, someone who can create quality shots in crunch time, make other guys better and salvage plays that break down in the last 10 seconds of the shot clock. Houston won 22 straight because of T-Mac and because of the way everyone fit around him. It was really that simple.
[+] Enlarge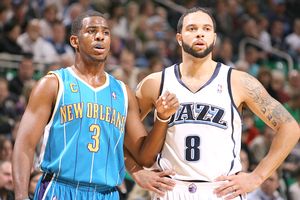 Melissa Majchrzak/Getty ImagesIt's on!
What's fascinating about the Hornets and Jazz: They're built much the same way, with everything hinging on their franchise point guards and how the other eight guys fall into place behind them. Both teams have subpar shooting guards, perimeter stoppers (Trevor Ariza and Andrei Kirilenko) and scoring forwards with unconventional games (David West and Paul Millsap). The Hornets don't have a post-up player on Al Jefferson's level, but they shoot 3s much better than Utah. Other than that, very similar teams. If Chris Paul and Deron Williams switched sides tomorrow, neither team would miss a beat. Translation: It's on! From 2005-09, I thought Paul was better, even writing (and meaning it) that Paul was Pearl Jam and Williams was the Stone Temple Pilots. The dynamic shifted these past 13 months thanks to Paul's knee surgery and Williams' inspired play; at least it's an argument now, as long as you remember to mention that Paul's 2008 and 2009 seasons were the most efficient back-to-back seasons by a point guard
in history
. No point guard ever brought more to the table and took less off it than Chris Paul. Now that he's healthy again, in my opinion, there is no argument. He's the best point guard alive. But if Utah does better than New Orleans this season, that argument falls apart. See, it's almost like having access to a real-life simulation: Williams and Paul running similar teams in the same conference in the primes of their respective careers. If Williams' team does better, he gets the point guard championship belt. If Paul's team does better, he keeps the belt. Either way … awesome.
Reason No. 5,603 the NBA drives me crazy sometimes:
Mario Chalmers made the All-Star ballot. Paul Millsap did not. I would have made this my biggest peeve of the 2010-11 season (how we can never have an All-Star ballot without somebody brain-farting all over it?), but that doesn't bug me nearly as much as the two-minute music videos before every home team announces its starting lineup, or, as I like to call them, "The Two Minutes Of Your Life You'll Never Get Back." Guess what? We don't have the two minutes to waste these days. Today's games routinely break my 150-Minute Rule (that nothing should last for more than 2  hours unless there's a REALLY good reason) thanks to all the shenanigans before the game, in-game replay checks, 20-second timeouts that take 90 seconds, the inexplicable TV timeouts near the top of the second/fourth quarters that we don't need, the barrage of timeouts at the end of any close game … I mean, couldn't we shave 20 minutes out of the typical NBA night pretty effortlessly? Let's at least make this rule: Only teams with a winning percentage of .650 or higher can show two-minute music videos before their starting lineups. Thank you.